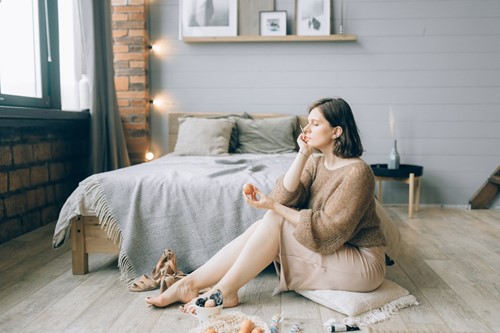 Your bedroom is probably the most personal space in your house - and one of the most relaxing. However, it often goes without the same effort as other rooms regarding décor.
If you are looking to start a new project, here are a few great DIY options for your bedroom:
Floral garland backdrop
To create a whimsical or magical atmosphere in your bedroom, consider creating a floral garland backdrop as an accent on one of your bedroom walls. This is a quick and easy DIY project to take on.
All you need to do is purchase silk flower garland from a local craft supply store, and cut it into equal parts. Then, hang the garland vertically along the wall of your choosing. Adding this DIY project to your room will help bring some of the natural elements of the outdoors inside, with minimal effort.
Fairy light headboard
Sometimes one of the best ways to bring a sense of peace and calm into your bedroom is to add alternative lighting to the space. A fairy light headboard can add a playful vibe to your bedroom while simultaneously creating a relaxed atmosphere.
To create this headboard, purchase a sheer fabric, such as tulle. You will also want to have white mini lights available to complete the project. Attach the mini lights to the tulle, and then hang the tulle from your ceiling behind your bed. In a matter of moments, you will have a beautiful yet affordable headboard.
Reclaimed barn wood headboard
Rather than purchasing an expensive furniture set or having a custom piece made for you, you can craft your own headboard. Piece reclaimed barn wood together and create a structured headboard. You can finish the barn wood as-is, using a clear finisher, or you can paint it to your preference for a customized aesthetic.
When you create a relaxing space, you will find you actually rest easier. Your bedroom is the place where you can go to get away from it all, and it should be filled with all the things that are completely you.