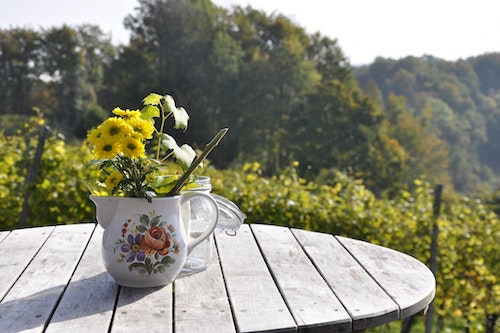 With warmer weather on the horizon, it's an excellent time to consider build projects for enhancing your outdoor space. After all, even the smallest projects can make a huge difference in your yard or garden.
While the list of projects and enhancements can seem endless, it can be helpful to begin with an easy DIY project.
This is where outdoor tables come in. There are many ways to create your own custom outdoor furniture using basic materials and only a few power tools in just a couple of hours. If you're interested in building an outdoor table, here are some outdoor DIY home projects to consider:
Simple polished concrete tabletop
Concrete is one of the most durable materials you can use for DIY projects, and it's surprisingly beginner-friendly. For a functional yet aesthetically pleasing outdoor table idea, consider creating your own polished concrete tabletop.
Simply buy or create a cement mold in the desired size and shape for your future table. Mix concrete according to the included instructions and allow the table to set in a mold for at least 48 hours or more, depending on the size. Once it's ready, you can finish it off by polishing the surface.
Adding a DIY concrete tabletop to an existing table base such as a wooden crate creates a rustic aesthetic while also allowing the opportunity to include hidden storage space. Add a coat of white spray paint or chalk paint for a bright and cheerful farmhouse vibe, and this DIY project could be a starting point to inspire other ideas to give your outdoor space new life.
Simple outdoor tile tabletop
Combining woodwork, metal and tiling techniques, you can add a tile tabletop to your outdoor furnishings in a single DIY project. Simply choose a piece of plywood in the size and shape you want your tabletop to be, and add the tile to the surface as you would to a wall or floor.
In a few hours, you'll have a stunning addition to your garden, patio or other outdoor space. Get creative with tile placement and pattern, or create a custom mosaic to show your artistic side. Make sure to follow all included instructions and allow your choice of tile adhesive to dry completely before using the table.
For smaller tables, you can use high-quality wood glue to attach the tiles. However, you will still need caulk or similar product to fill in any gaps in between tiles to avoid moisture damage to the wood beneath.
These are only two examples of outdoor furniture DIY projects. For full project instructions including all the materials you'll need, consult your local home improvement store or online resources. With a single weekend and some elbow grease, you can use these DIY projects to create something amazing for your outdoor space.