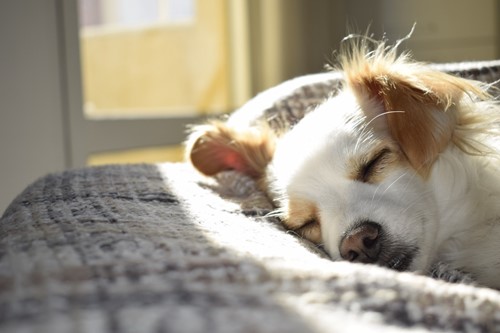 A comfortable pet is a happy pet. But sometimes, pet furniture is not comfortable for your budget. Instead of overspending on a dog bed, consider the DIY approach. If you're interested in some clever ways to upcycle items into budget-friendly dog beds, here are some ideas to inspire you.
Wine Barrel Bed
Wine barrels are a favorite among the DIY community for their sturdiness, versatility and rustic charm. If you take half of a wine barrel and add a shallow cutout for your dog to climb in and out, it can make an excellent pet bed. Make sure you sand and treat the wood with non-toxic treatment and then add a comfy cushion or blanket of choice. If you have a smaller dog, opt for cutting the barrel lower down to make a shallower container.
Suitcase Bed
Do you have an old broken suitcase you haven't gotten rid of? Now's the perfect time to give it new use as a dog bed. If you have either a hard or soft shell suitcase, you can simply add a cushion and lay it open for your dog to sleep in. One of the advantages of this DIY idea is that due to the myriad choices of suitcase sizes, you can make a perfect bed for any breed and size of dog. Decorate and customize as you wish for a funky, upcycled bed your pet will love.
Dresser Drawer Bed
An unused dresser drawer can become a cute and funky dog bed with only a few DIY steps. Remove a drawer from an old dresser and add a soft piece of foam or cushion inside. Decorate or paint the outside and you have an instant dog bed ready for the bedroom or anywhere else in your home. If the drawer is made of wood, give the edges some extra sanding for safety and to protect your pet from splinters.